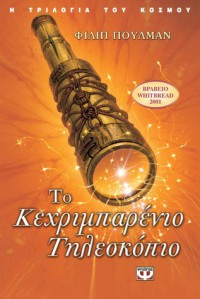 Reviewed for the "Reviews from Depth of Time" Marathon.
Reviews from Depth of Time
This is the last installment of His Dark Materials series. For now, at least! Because I really really hope there will be a new book for Lyra and Will, years after this one took place, if I may suggest.
But, first things first!
I'll start my review by hiding the spoilers (which means, the rest review)
Lyra and Will continue their adventure and to my hue satisfaction they get closer and closer. I should admit that I enjoyed that fact too much as I was anticipating it to happen for quite some time.
Their relationship grows, and they even dare to touch each other's daemons, something that is considered to be unspeakable of.
But then quite unexpectedly, for me, everything is ruined. At least for me, I repeat. Will goes back to his world like nothing ever happened? How? WHY? I really truly do hope that there will be a sequel to that. I can't really confront that this story just ended at that. He just leaves and Lyra and Will can only see each other in a strange little way I can't really recall right now. This is just totally unfair! It broke my heart. It crashed it. Oh, please let my prayers be heard!